Strapper surfboards was founded in Torquay on the Surf Coast in Victoria, Australia with Bells Beach and Winkipop surf breaks just down the road in the heart of the indigenous Wathaurong country. Strapper Surf shops are in Torquay as well as the neighbouring towns of Ocean Grove, Geelong and Aireys Inlet just down the Great Ocean Road.
The traditional image of a surfboard shaper with his shop out the front selling surfboards and everything needed for surfers to go surfing is a well-worn story that in fact is very rare and unique today. Strapper started making surfboards in the 60's and still today have a surfboard factory at the back of the original Strapper Surf store in Torquay. We are still stoked that "we make surfboards". Other than making our own boards and gear, we sell all the major surf brands and surf products and showcase a curated multi brand offering of surfboards, wetsuits, surfwear, footwear, surf accessories and everything else that surfers need for the beach in our surf shops.
In Torquay along with Rip Curl, Quiksilver and Oakley South Pacific Strapper was born. Strapper continues to be "local owned and operated" by a surfboard shaper and proud to be "the surfers shop".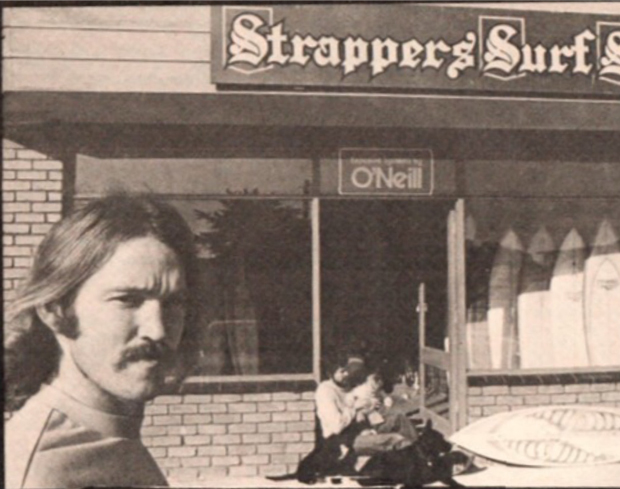 Strapper officially commenced business in 1976 but its roots are in the fledgling Torquay surf industry in the late 1960's. Dennis "Strapper" Day first started shaping with Fred Pyke in his Boston Road Pyke surfboard factory that later became Piping Hot. In the early 70's Strapper moved to the "Klemm Bell" factory on the main road in Torquay and managed the surfboard production. "Klemm Bell" at this time was the premiere surfboard factory in Victoria with a long list of in house shapers and visiting interstate and international shapers. Strapper soon had a strong following of his surfboards and in 1976 opened his own surf shop and shared a factory with legendary shaper Pat Morgan.
Strapper soon set up his own factory on Speaky's farm in a sheep shearing shed at the back of Bells Beach overlooking the surf at Jan Juc. Michael "D'Sas" Di Sciascio started shaping with Strapper as a 15 year old in 1979. In the 80's a new surf shop and surfboard factory was built on the main road in Torquay next to what was Rip Curl then Quiksilver's boardshort factory. In 1989 Michael after being a junior partner bought Dennis out to own Strapper.
In the early 90's and on the back of Torquay's great surf and wind conditions Strapper made and distributed wave sailboards to 23 countries around the world and helped launch the career of Jason Polakow, one of the world's best ever wave sailors/waterman. Jason/Strapper with unique talent and marketing, strong logos and graphics had a major impact globally with the legacy still in the sport today.
Michael sold the sailboard side of the business in the mid 90's and he chose to focus on his passion for his Strapper Surf store in Torquay, shaping surfboards and going surfing. In Torquay Strapper now has two shops with the surfboard factory out the back of the board store, The Bells Beach surf outlet and Blunt Skating and snow shop.
Michael still shapes boards out the back of the shop in Torquay. Many of the Strapper crew are top competitive surfers with a strong passion for surfing just like Michael who has won 12 or more State Kneeboard surfing titles. This really sums up the true grass roots of the Strapper Surf shops and surfers can trust Strapper as the place to get great advice on surf hardware, accessories and the very best selection of surf wear.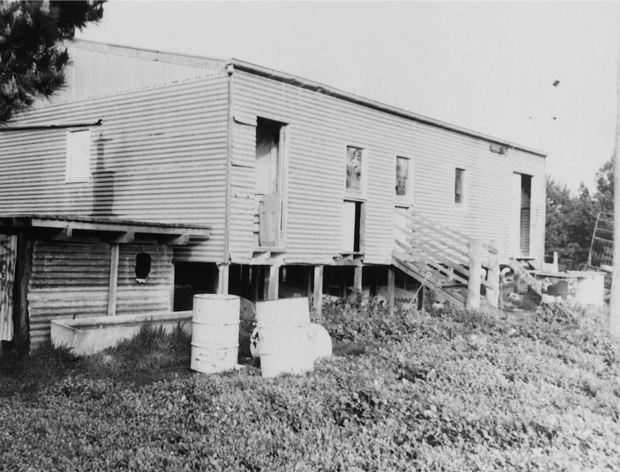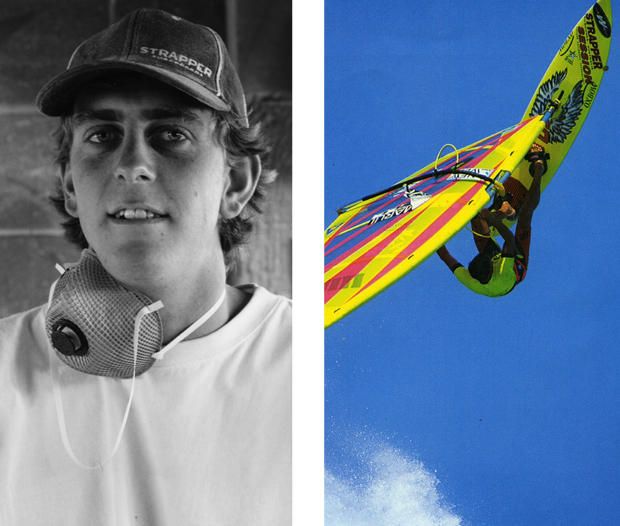 AUSTRALIAN SURF INDUSTRY AWARDS

SURF SHOP - VICTORIA/TASSIE
5 x Winner
1 x Runner up
SURF SHOP - AUSTRALIA
1 x Winner
3 x Runner up
CORE BOARD SHOP - AUSTRALIA
2 x Winner
3 x Finalist
SHOP FIT OUT - AUSTRALIA
1 x Winner
1 x Runner up
Strapper is a committed supporter of surf and skate events, clubs and associations in the local community. The Strapper Surf Junior was Victoria's longest running junior event that ran for 18 consecutive years and was forerunner of the Victorian junior series run by Surfing Victoria. Strapper is a current and long-time supporter of the Torquay Boardriders Club, 13th Boardriders Club, Otway's Boardriders Club, Jan Juc Boardriders Club and sponsor/supporter of Kneeboard Surfing Victoria. Strapper also contributed to the building of the first Torquay Skate Park by donating $10,000.
With a long history of junior surfer development and surfer sponsorship Strapper have an amazing roll call of current and former team surfers. Many have built careers in surfing and the surf industry which we are proud to have contributed to.
At Strapper a core value of Mike and his team is to be a contributor to and participate in our surfing and local community's.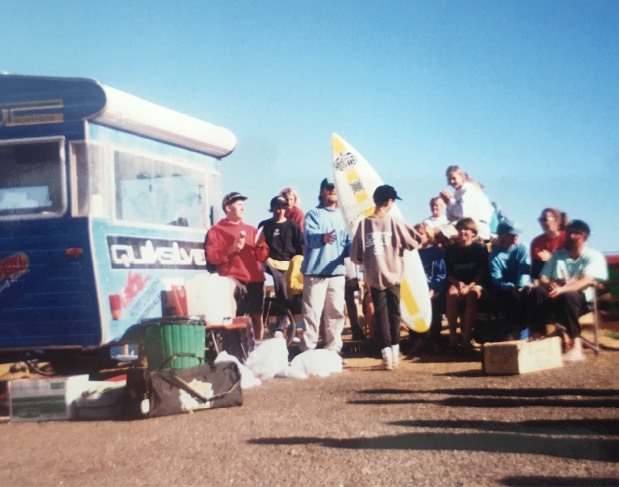 STRAPPER SURF OWNER
MICHAEL "D'SAS" DI SCIASCIO
Michael originally from country Victoria grew up in Geelong and at 15 years old left home, school and moved to Torquay to follow his surfing passion and make surfboards. Mike now has over 36 years' experience across many areas of the Surf industry both locally and internally and has shaped over 12,000 boards and manufactured 10's of thousands more. Michael has always promoted new young keen surfers and shared the opportunities and passion that drew him into surfing and Torquay. As well as a current group of passionate staff a long list of ex Strapper crew have gone onto great success and influence around the surf industry.
Michael is committed to his surfing, industry, lifestyle and community and has contributed to a number of organizations over the years.
Independent Surf Retailing Alliance
(I.S.R.A) Current Chair and long-time committee member.
Surf & Boardsports Industry Association.
S.B.I.A) Co-founder and founding committee member.
Surf and Lifestyle Torquay
(S.A.L.T – former Industry group) Foundation Chairperson.
Torquay Surf Industry Association
(superseded by S.A.L.T) Founding committee person.
Torquay Boardriders Club
Past and longest standing president and Life member.
Surfing Victoria
35+ year member and strong supporter.
Kneeboard Surfing Victoria
Long-time member and sponsor, 2015 "best clubman".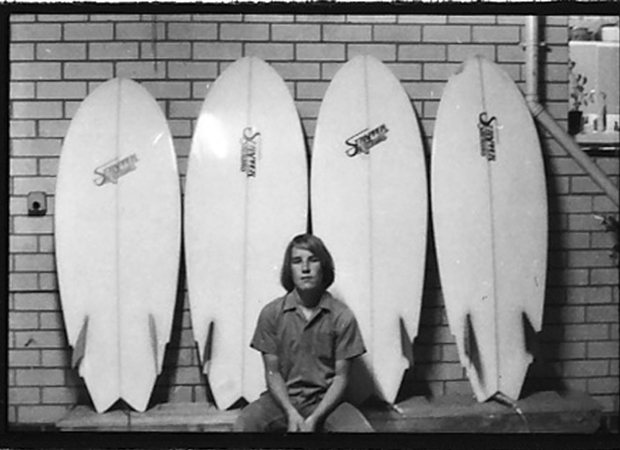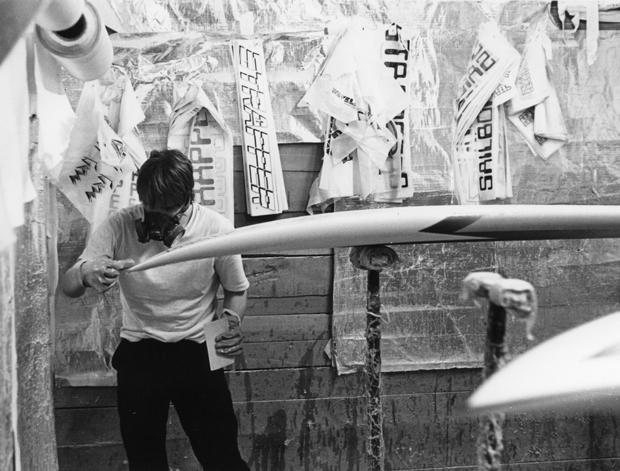 Join our 'Strapper Crew' for news, events and exclusive offers.