Pyzel the Shadow Xl
$899.00
Pyzel the Shadow Xl
$899.00
The Shadow XL is our new high-performance shortboard addition to the Ghost family and has quickly become a favourite among our team riders and friends. For the 2018 Stab in the Dark project Jon wanted to make something fresh and new, but to start off with something that was tried and true. Knowing that the Phantom is a great board for those types of conditions he decided to start there and redesign it as a more refined, high performance shortboard, while still keeping the added flow and glide that defines the Phantom. The Shadow is designed to give you the advantages of a wider, forward outlined type of board but in a sleek, modern package.
It features our version of a high performance outline, but with the wide point at centre not behind. We pulled in the nose by almost a half inch and added some extra rocker through the last 12 inches in the nose to keep it free through critical turns. It has a gentle hip for looseness and the squash tail is pulled in to help tighten the turning radius and improve its vertical capabilities.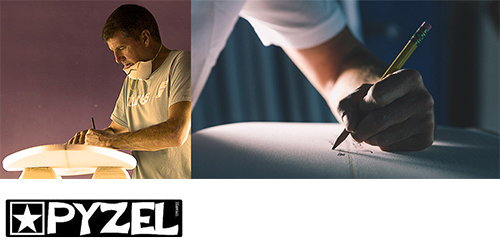 | Length | Width | Thickness | Volume |
| --- | --- | --- | --- |
| 5'10" | 19'1/4" | 2'1/2" | 29.3L |
| 5'11" | 19'3/8" | 2'9/16" | 30.6L |
| 6'0" | 19'1/2" | 2'5/8" | 32.1L |
| 6'1" | 19'3/4" | 2'3/4" | 34.3L |
Join our 'Strapper Crew' for news, events and exclusive offers.